Method Architecture Acquires GSC Architects
With offices in Austin, Dallas, Houston, and San Antonio, Method Architecture (Method) has acquired GSC Architects (GSC) to strengthen their Austin and San Antonio presence. A natural fit, both firms are committed to delivering quality architectural services with a focus on sustainability and ego-free, client-centric design solutions. Together, the firm now features more than 70 employees, including 12 registered architects and 6 registered interior designers, located in four offices across Texas.
Jake Donaldson, Managing Partner at Method Architecture, notes that, "Combining forces with GSC Architects provides an opportunity to continue their legacy of great architecture and sustainable design across both the public and commercial sectors. GSC's experience both complements and strengthens Method's portfolio of work and helps us expand our existing presence in Central Texas."
Method Architecture, a certified Minority-Owned Business, is licensed in 27 states and is a full-service architectural firm specializing in a variety of project types ranging from experiential retail, breweries, and mixed-use developments, to industrial warehouse, distribution, and high-tech manufacturing facilities. Method recently completed M-K-T Heights, with Michael Hsu Office of Architecture, a unique adaptive reuse project transforming five former industrial buildings into a lively development located in the bustling Heights. The project features over 200,000 square feet of office, restaurant, retail, and fitness space connecting to the Heights Hike and Bike Trail.
Founded in 1978 in Austin, GSC Architects has deep roots in Central Texas and a robust body of work. Led by Tom Cornelius, GSC Architects has a diverse portfolio including mixed-use, interiors, education, public and science and technology spaces. GSC recently completed the Mexican Consulate in Houston, leading the design improvements for the 49,000-square-foot, four-story building, including interior and exterior upgrades. The space is a colorful celebration of volumetric geometry and playfully guides guests through the public service spaces, art galleries, and historic collections.
"Our team admires Method's work and its leadership. We are proud to join forces. Our culture, experience, and focus on sustainability align perfectly and will strengthen Method's existing presence in Central Texas," says Tom Cornelius, Principal and CEO at GSC. Tom will join Method Architecture as Director of Client Relations, Central Texas.
Other recent, noteworthy projects from GSC Architects includes: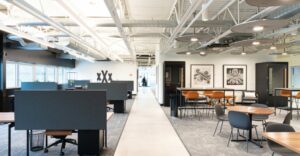 Pearl CoWork
GSC recently completed Pearl CoWork in the Full Goods Building at the Historic Pearl. This state-of-the-art co-working space playfully embraces its heritage and features pieces from the original Pearl Brewery. This includes private offices, open offices w/ private desks, commons areas, such as; mail/copy, coffee/breakroom, phone booths, plaza area with low/high top tables, and lounge seating.
SHI Garza Office Building
SHI Austin is a 250,000 square foot LEED Gold office building featuring a functional mix of open office space, daylit amenity spaces, green hill country views, and carefully chosen materials.
In the News
Houston Business Journal | Method Architecture Acquires GSC Architects to Expand in Central Texas