History in Architecture: Cinco de Mayo
Contrary to popular belief, Cinco de Mayo is not the Independence Day of Mexico. It is the day the Mexican army defeated the French Army at the Battle of Puebla on May 5, 1862. The Mexican army was severely outnumbered by the French army during the French-Mexican War and, although outnumbered, the Mexican Army lost fewer troops than that of the French. Therefore, General Charles de Lorencez called for the French army to retreat which lead to a very significant and much needed victory for the Mexican army.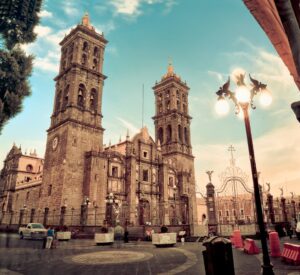 The city of Puebla continues to celebrate the anniversary of the Battle of Puebla as Cinco de Mayo. Their rich history and culture is shown in the architecture throughout the city. Puebla Cathedral, which the town surrounds, survived the battle and is one of the oldest cathedrals in Mexico with construction beginning in 1535 under the patronage of the Bishop of Tlaxcala! A few decades later, the plan for the cathedral was changed to a larger and more elaborate building designed by architect Francisco Becerra, the new project began in 1575. The entire cathedral took over 200 years to complete with construction finishing in 1768.
It was built with both Renaissance and Baroque styles, with some transition to the Neoclassical style visible on the facade, and has two towers that stand over 200 feet tall (the tallest in Mexico). Despite the typically effusive decoration, the exterior is rather austere due to its dark grey stone made of black limestone. The west facade is decorated with statues of saints including Peter, Paul, Joseph, James the Greater, Rose of Lima, Michael the Archangel, Teresa of Avila and Gabriel the Archangel. There are also reliefs of the four Spanish kings from the Habsburg line: Charles V, Philip II, Philip III, and Philip IV.
There are 14 chapels and an octagonal alter, designed by Manuel Tolsá and built in 1797. The gorgeous cathedral isn't the only thing in the city with outstanding architectural features. The entire historic centre of Puebla is full of historic buildings designed in Renaissance and Baroque styles, just as the Puebla Cathedral. These include La Compania Templo del Espiritu Santo (Temple of the Holy Spirit) and Puente de Bubas (Bubas Bridge).
Contemporary and Modern styles have slowly been taking over the city compared to the predominately historical styles such as the ones featured in Puebla Cathedral. One grand example of this is The International Museum of the Baroque designed by Japanese architect Toyo Ito. This museum's architecture plays tribute to the Baroque style shown throughout the city but in a more modern take. The exterior of the building was built with extensive white concrete slabs and has large windows to overlook the courtyard. The interior has a grand curvy staircase in the middle of the atrium and sitting areas.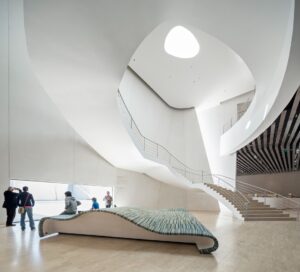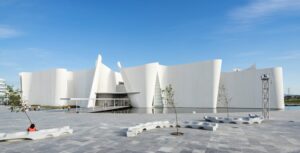 Different architectural elements from Baroque and Renaissance styles to more Contemporary styles surround the city and show off Puebla's celebrated history.
---
 Image sources:
https://www.archdaily.com/786104/museo-internacional-del-barroco-toyo-ito-and-associates-architects
https://en.wikipedia.org/wiki/Puebla_Cathedral
https://www.pinterest.com/pin/97601516896630618/?lp=true