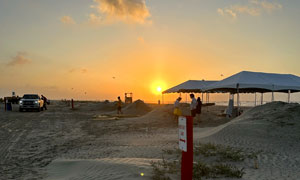 The hottest cars on earth joined forces with the most magnificent creatures of the Sea to dazzle and delight the crowds at the 2023 AIA Sandcastle competition in Galveston, Texas.   Our triple award-winning team of Method Architecture, Alston Construction, and Kimley-Horn Engineers joined 47 other AEC teams to compete on the beach.
But this is not a one-day affair.  Months before the event, our team began planning to compete in the Kidtastic: Toy Box category.  Over the years, we learned that a fun fusion twist on a theme was the best direction; thus, the fusion of toy cars and creatures for Davy Jones' Locker was born.  As our team developed the Hot Whales concept, we had to design each element's size, shape, and location and calculate how much sand would be required to build each component.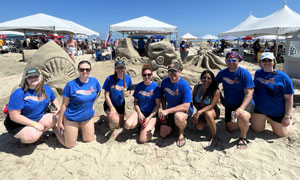 The day of the competition started early, with forms set out on the beach at sunrise.  Teams officially started building at 10 am, moving mountains of sand, filling the forms with the perfect mix of sand and water, and placing them in the ideal position.  After a quick lunch break, our team removed the forms and began carving away.  Under the heat of the Texas sun, a pirate ship, giant squid, a scary shark, and a fierce wheeled whale took shape.  Our team persisted, the crowds cheered, and at 3 pm we put the shovels down.  The competition was over, and our Hot Whales were ready to race around the track!!  We gave high-fives all around for a job well done.  Although we didn't win the big prize, we had a blast and cannot wait for more fun in the sun next year.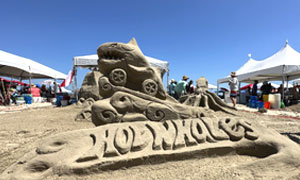 We had a fantastic day reconnecting with our industry partners from all across Texas and celebrating all their unique creations.  Thank you, AIA, for hosting such a fun-tastic event that encourages intense creativity and builds even better camaraderie among the AEC community.