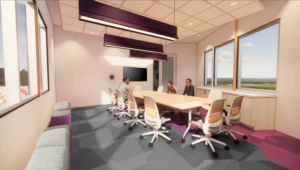 In a playful expression of design and functionality, Method Architecture Austin is not afraid to show its fun side through its East Austin outpost's refresh.
The firm, which has been in the Austin market for over 10 years, recently acquired GSC Architects and has grown quickly. This growth from 7 to 20+ employees prompted the firm to reallocate the uses for its current space to create a working environment that would elevate the way its employees could use the space.  
"We are excited for the renovation – our updated space will allow us to work more efficiently and will serve as a welcoming place for our team and clients," said Holley Higgins, Studio Manager of the Austin Interiors studio.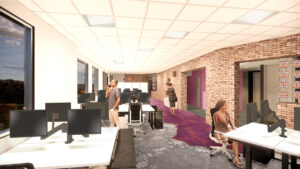 The office building, located at 2921 E. 17th Street, was built in the late early 80s and has a distinct wedge shape, which presented unique challenges in the interior space planning process.  
What once served as single purpose spaces now have become double- and multipurpose – such as Method's new front lounge that will be used for reception, dining, presentation area and a secondary workspace.  
"When we were selecting our materials for the space, we wanted to introduce color and keep our culture's fun and funky vibe," said Jason Franz, lead designer of the project with Method Architecture. "We explored what materials we could reuse without losing functionality."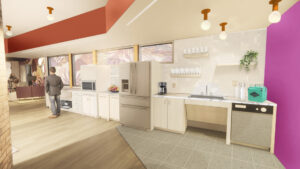 The natural light pours into every spot of the office and lights up the flexible working spaces, with a scenic view of the vibrant neighborhood. The location of the building is steps away from Austin's Metrorail and minutes from downtown.   
While the firm will not occupy additional space square footage with the update, it does have the ability to expand into a second floor if the firm should need. The office, which evokes the Austin market through its design, is set for completion and occupancy by late-March 2023. M+ Builders is the General Contractor on the project.