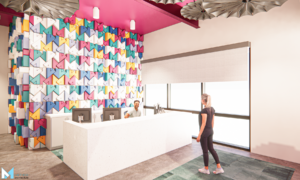 Local commercial architecture firm, Method Architecture, is designing their new space at Midway's East River mixed-use development. The 8,574 square foot space will not only serve as the firm's Houston office location but will also be a playground for clients to dream and visualize their future projects.
The new space will house 58 employees and feature a variety of formal and informal collaboration spaces including a project simulation lab. The lab will feature virtual reality technology, a product sample library, and tunable white lighting to give clients a realistic view of their projects and material selections in real time.
The space will offer various work points to suit different styles and preferences. From traditional, dedicated workstations, and meeting rooms to cozy booths and hoteling desks, the office provides a dynamic and lively experience. The new office has 30% more collaboration and meeting space than the current one, a need communicated during the employee survey sent out at the project's kickoff.
"Working remotely for a year during the COVID-19 pandemic made us take a fresh look at how we use our office space," said Jackie Rye, Partner and Houston Market Principal at Method. "We've found that the office is more of a gathering place and social connector than a place to sit at your desk all day. That's our goal – to design a space where employees want to show up every day."
The firm offers a hybrid work environment with a mix of remote work and office days.
Method Architecture's Houston office is currently located on Lamar Street in East Downtown at Ancorian's East Village development. The firm combined two offices into this space in 2016 when they merged to become Method Architecture.
"When we designed our current office space, we were trying to blend two company cultures together after the merger," said Ashley Bettcher, Research & Design Specialist and lead designer for the new office space. "This new space has allowed us to lean fully into who Method is and create a space that radiates our ego-free culture. We've created a space that welcomes and inspires through the use of bright colors and playful elements."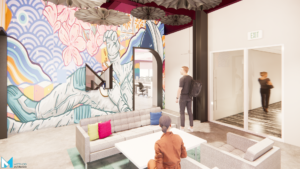 Beyond the use of bright colors, the design team intentionally brought softer elements into the space reminiscent of home.  The lobby area will feature a custom mural installation by local artist, David Maldonado. David's work can also be found around East River at the corner of Jensen and Clinton.
The vibrant, new office was designed by a team of internal architects and designers. The project team includes Ashley Bettcher, Katherine Rorie, Alexis Garcia, Juan Ponce, and Leah Schultz. The office is anticipated to be ready in 2023.
The new office will be seeking both LEED and WELL certifications. Through sustainable material selections, energy saving design strategies and health-focused features, the design aims to dramatically reduce the firm's carbon footprint while supporting the comprehensive well-being of employees.
In the media
Houston Business Journal – Method Architecture Unveils Plans for new East River headquarters