Tis the season for Holiday cheer and desserts full of beer from Method Architecture! The 10th recipe for the 12 Days of Beer Recipes is Pumpkin Beer Bread!
---
Pumpkin Beer Bread
Ingredients
3/4 cups all-purpose flour
1 tbsp. pumpkin pie spice
1 tbsp. baking powder
1/4 cup brown sugar
1 cup pumpkin puree
1 tsp. salt
1 – 12oz Buffalo Bayou Brewery Pumpkin Spice Latte (or any fall/pumpkin beer)
3 tbsp. butter
Instructions
Preheat oven to 375° and grease a large loaf pan well.
Combine flour, pumpkin pie spice, baking powder, salt, and brown sugar in a large bowl until thoroughly mixed.
Add pumpkin puree and beer, stir until just combined.
Pour into loaf pan.
Top with butter.
Bake for 55-60 minutes, until the top, is crusty and golden brown.
Remove from oven and let rest for 5 to minutes before cutting into it.
Find the original recipe here!
---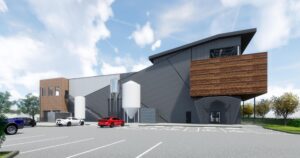 Buffalo Bayou Brewing Co.
Method Architecture has been a part of Buffalo Bayou Brewing Company's journey to be Houston's most creative brewery since the beginning. Method's team helped Buff Brew's Rassul Zarinfar to make phase 1 of his vision come to life in 2011 when they designed the original brewhouse on Nolda Street in Houston. Seven years later, Method is helping to bring the next phase of Buff Brew's vision to life with their new 3-story brewery and restaurant in Houston's Sawyer Yards Arts District. This project is currently under construction slated to open Summer 2019.
Want more recipes?
Day 1 Recipe: Beeramisu
Day 2 Recipe: Coffee Stout Brownie
Day 3 Recipe: Beer-Candied Bacon
Day 4 Recipe: Imperial Stout Pub Cookies
Day 5 Recipe: Caramel Apple Beer Bread
Day 6 Recipe: Mexican Beer Spiked Churros
Day 7 Recipe: Beer-Battered Apple Rings
Day 8 Recipe: Beer Eggnog Icecream
Day 9 Recipe: Wild Ale Salted Caramel Squares