Our Top Picks from Neocon 2018
Neocon held in Chicago since 1969, serves as the commercial design industry's launch pad for innovation that offers ideas and introductions that shape the built environment today and into the future. This year, a few designers from the Method Architecture Interiors team attended the conference and will give you a sneak peek at some of their favorite new trends and products!
Flooring Trends
One of the main flooring trends for this year is carpet and LVT as a statement piece with bright colors, geometric shapes, and sophisticated patterns. Having bold colors with shapes and patterns help create a positive space that inspire and connect.

Team Pick:
Interface – Visual Code Collection is one of our favorite flooring that use carpet as a statement piece. Visual Code has a collection of ten different patterns in carpet inspired hi-tech and hi-touch technology that copy images of glitch graphics and technicolor circuitry with simple textures that recall plain woven fabrics and rugs.
Furniture Trends
Natural, biophilic elements incorporated in the overall design of the space is a trend that helps bring the outside in. Incorporating nature into the built environment and designing inspirational places helps connect humans to their surroundings. Natural light, vegetation, living walls, natural textures and materials and nature views is what provides a positive impact.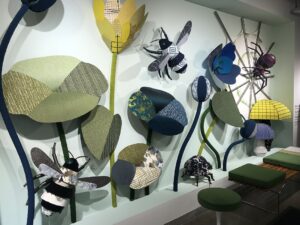 Innovative technology elements added to furniture is becoming very big in the workplace. Smart furniture that is connected with an app helps improve productivity and efficiency. One main example of this is an electronic desk that can change heights from sitting to standing positions. However, on the other hand, there is still a large amount of favour shown towards antique furniture throughout the world of interior design. Many still prefer their furniture from places such as antiquesworld.co.uk, although developments in technology remain very exciting for the world of furniture.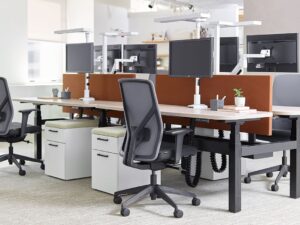 Bringing industrial design into the workplace is another major furniture trend. Mixing wood and metal elements into furniture is one way to create an industrial design.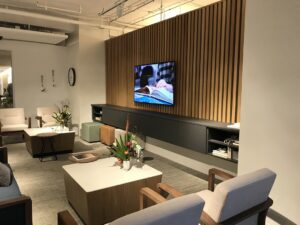 Collaboration spaces are also growing in popularity. These are very popular in open office designs which is attractive for the Millennial and GenZ generations. Collaboration improves teamwork over competition, helps new ideas flow, better office health and improve efficiency and productivity. Spaces with more workers in them will of course require a more frequent replenishment of office supplies and will need more desks and chairs for people to sit at. For all your office supplies and furniture needs, head over to officemonster.co.uk.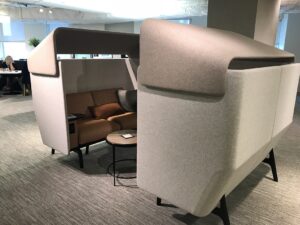 Team Pick:
Our team's two favorites from furniture follows the trend of mixing wood and metal elements to create an industrial look in the office.
OFS – Carolina (Zone 8)
Contributors