COVID-19 Taproom Tips: Prepping Your Taproom for the "Brew" Normal
Whether you've already opened your doors or you're looking for guidance on a safe way to do so, here are some tips for re-configuring your taproom for social distancing requirements and reopening your brewery. These suggestions are based off the current requirements by the State of Texas for keeping both employees and customers safe.
Before you begin, it's important you understand what your local and state capacity and distancing requirements are based on the type of brewery license you have. If you have questions about these restrictions, contact your local brewers guild or review the resources available from the Brewers Association. Also, be sure to review the CDC and OSHA federal guidance for implementing procedures to keep both your employees and customers safe. Being well versed in this will not only give you piece of mind but will also help you answer questions you may receive from your employees or patrons.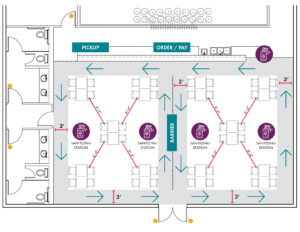 Social Distancing Measures
What sounds like an oxymoron has become an essential practice in 2020. Keeping your customers safe and comfortable at your brewery are key. Overcommunicate the measures you are taking. Utilize signage and your own marketing channels to let patrons know the measures you are taking even before they step foot in the brewery!
Be sure your tables are a minimum of 6 feet apart.
Keep patrons at their tables to limit any spread from one group to another. This can be achieved by taping a large square on the floor around the table to show boundaries. This can also help you accommodate different size groups as regulations for group sizes increase.
If you have the opportunity, seat people outside. While protocols still need to be followed outdoors, the open air environment can make people feel more relaxed.
Touchless Tech
Limiting the amount of touches per transaction will help to curb the amount of germs being passed from surface to surface. It will also minimize the number of surfaces you have to clean, for example, menus.
Utilize an online menu that can be accessed from a QR code on the table.
Install foot pegs on the doors to decrease the amount of hand touches.
Consider becoming a cashless business.
Install hands-free sensors for flush valves, sink, and paper towel dispensers.
Controlling Traffic Flow
The key to making patrons feel comfortable in your space is communicating the way you want them to move throughout the taproom. Use signage throughout the taproom to help keep people moving through as you had planned.
Have someone directing traffic and monitoring the number of people entering the taproom.
Place markers on the floor to show the direction you want people to go.
Use barriers to restrict traffic flow. This can be as simple as a rope barrier.
Consider adopting the use of servers like a restaurant to better control the movement throughout the brewery.
Keep It Clean
If brewers know how to do one thing very well, it's cleaning! Continuous cleaning throughout the day will not only keep germs and bacteria down but it will also give your patrons a sense of ease. Be sure to show your patrons what cleaning measures you're taking!
Create an infographic to hang on the wall about your brewery's cleaning processes.
Install hand sanitizing stations throughout the taproom and at the entrance.
Designate a glassware return or utilize an eco-friendly, compostable, single-use cup.
Clean in between each seating.
FREE Taproom Layout Analysis
Submit some information about your brewery and our team will provide a free space analysis for a social distance-friendly taproom!
Brewery Architects
Method Architecture specializes in brewery and distillery design. We have designed over 25 successful breweries and distilleries across the United States including Karbach Brewing Co., Yellow Rose Distillery, and Buffalo Bayou Brewing Co. From small interior build-outs and large ground-up breweries to tap rooms and packaging facilities, we have helped our clients at every stage of their journey from home brewing to national distribution.