Tilt-up and tiltwall are two terms used to describe the same process of building the concrete walls for buildings by assembling forms and pouring large slabs of concrete called panels directly at the job site. Here are the top 10 reasons to consider tilt-up construction when planning your next project:
1. Speed
Walls for a building using the tilt-up method can often be completed in a week or so. In a tilt-up construction project, the building's walls are poured directly at the job site in large slabs of concrete called "tilt-up panels" or "tiltwall panels". These panels are then raised into position around the building's perimeter forming the exterior walls. This creates a much quicker process with building a project especially as it is constructed at the job site.
2. Energy Efficiency
Heat loss or gain through walls, roofs, doors and windows is the largest component to energy waste. However, tilt-up panels, made with reinforced concrete, is a perfect insulator. This helps solve the issue of energy waste by creating a much more energy efficient building.
3. Nearby Materials
Ready-mix concrete, rebar and forming materials can be found from nearby suppliers verses waiting months for more complex materials, steel beams, etc. The nearby materials improve speed and price of the project as well.
4. Price
When you run a calculator for steel building construction the costs are slightly higher than the price of tilt-up construction building of similar size. But steel is very durable and has been used in the toughest climates. The construction of steel beams can be achieved by using such things as welding hoses kits. With the mix of energy efficiency, nearby materials, and speed of construction, the cost is much lower. Along with this, tilt-up construction tends to have smaller crews and fewer trades involved than normal construction which results in reduced labour costs.
5. Durability
Tilt-up concrete is extremely strong which is why in California it is used for 90% of their one-story industrial building projects. Concrete is unaffected by corrosion, rust, insect infestation and more, meaning it can last a long time, withstanding the majority of earthquakes and severe weather if designed according to local codes and ordinances.
6. Fire Safety
Tilt-up buildings are extremely fire-resistant and meet the majority, if not all, building codes. Tilt-up buildings offer great fire protection and safety.
7. Reduced Insurance Premium
With the improved fire safety and durability comes lower insurance premiums. Tilt-up concrete buildings have been proven to withstand earthquakes and other forms of severe weather along with superior fire resistant ratings.
8. Safety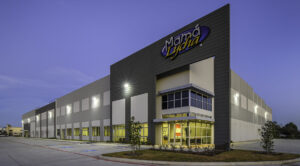 There are inherent risks with all construction and safety measures need to be put in place, like using trench boxes being used when digging trenches (Click Here to find out more about these). The safety of the construction workers is top priority, tilt-up construction poses less of a risk to workers due to the nature of the construction site. Investing in worker training courses, like those by WH&S More Skills, can reduce the occurrence of incidents in the work place as safety precautions and proper conduct for specific construction situations will be better observed as a result.
9. Maintenance
There tends to be little to no maintenance needed on tilt-up panels other than the periodic cleaning and repainting. If damage is done to the structure, it tends to be more localized unlike other structures such as steel buildings.
10. Design
Tilt-up panels are all custom-designed therefor, there is a full range of building finishes, colors, textures and design options. These custom designed tilt-up panels provide architects and designers with flexibility to create the perfect design for each individual project.
Our Tiltwall Projects:
Karbach Packaging Hall
GHX Industrial
Beltway Crossing NW
Parkview Commerce Center
Mama Lycha Foods
Grand Oaks Business Park