Are you thinking about redecorating your space? Have you been browsing all the different wall stickers available for your room? Trying to see how you can stay trendy? Well, with a new year in full swing, it is time to dive into the trends we hope to see for the upcoming year of 2019. From introducing eco-friendly elements to adding wall coverings to create an accent wall, 2019's design trends will help to push the envelope on your next project.

1. Recycling Natural Elements
Using natural elements in designs has been a growing trend for the past few years and will continue in 2019. Being environmentally friendly, is important to feature in any design from using recycled products to designing an elementary out of an old warehouse, such as Jaime D. Padron Elementary, shown in the picture. Reuse and recycle is a great way to implement natural or found elements in a design.
Another option is bringing the outdoors inside. From introducing plants in a room to natural light, it helps make any place cozier. Natural light, elements of wood, green walls and plants are all options to use to implement the indoor-outdoor feel expected for implementing natural elements in design. It wouldn't be wise to bring everything inside, including your deck! It's best your plastic decking stays outside; it looks much better out there.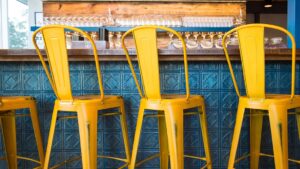 2. Bright Colors
Neutral color tones were in trend at the beginning of 2018, however brighter colors are starting to take over. From bright colored accents to painting an entire room a playful hue, bold colors are appearing everywhere to help brighten up a space.
Pantone recently announced the color of the year for 2019 and it is living coral. Living coral is a vibrant color yet it is still warm and nourishing to provide comfort in an environment. This is the perfect bright color to implement in a design in 2019.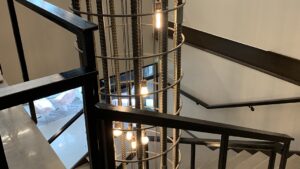 3. Artisan Accessories
From handcrafted art pieces to a unique chair or custom metal work, artisan accessories make a room more interesting. Small vendors selling unique pieces are the way to go in 2019 to help accent a room verses using mass-produced items.
Any fixture or furniture piece that is personalized for the space helps bring the element of design to a higher standard. There is starting to be a shift in decorators taking a notice of work done by local vendors and small businesses.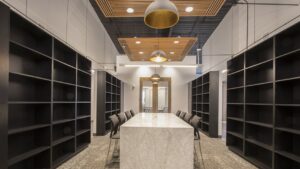 4. Metal Accents
Dark colors paired with metal accents of hardware or lighting bring the perfect combination of modern design. A small amount of gold or bronze details brightens up a room, as long as it is not overdone. Also, consider mixing in wood elements with metal to help warm the area up.
The best rules to follow when mixing metals is to choose one dominant metal type and then mix in 2 to 3 accent metals at most. To help make metals pop, balance cool and warm hued metals. An example of this is if steel, a cool hued metal, is the main accent consider using a gold or copper, a warm hued metal, as the accent.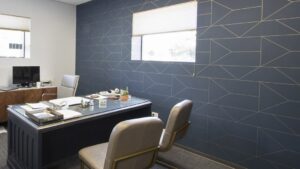 5. Wallcoverings
Wallcoverings, or also known as wallpaper, is starting to make a comeback from the 80s. However, this time it is coming back with a new twist. Wallcoverings tend to have a bad reputation but if done correctly it can make a grand statement in a design.
Using a wallcovering that has a fun pattern and bold color pallete is ideal. Also, wallcoverings are best in small amounts whether on one wall or in a small room. Using textured wallcovering in a design is another option to help create a statement piece and helps give an otherwise bland room some dimension.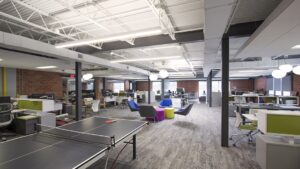 6. Open Environment Workplace
Minimize walls, add multipurpose workstations, and include comfortable couches and chairs for the design of an open environment workplace. If divisions are needed in the office, glass partitions are a great substitution to help let natural light and views to pass through the glass. However, include a few private spaces where if employees need to work in private, they are able to do so.
Open office designs with multipurpose workstations allows communication and participation between coworkers. It also improves employee performance and creativity by allowing them to work in 'hang out spaces' and in collaboration with others.
---
Our Projects Featured in this Article
Jaime D. Padrón Elementary School
Broken Barrel
Intex Flooring
Weiser Insurance
Contributor