April 15, 2019 – Houston, TX – Last Thursday evening, the Houston commercial real estate community came together to celebrate the 25th  Annual Houston Business Journal Landmark Awards. The celebration recognized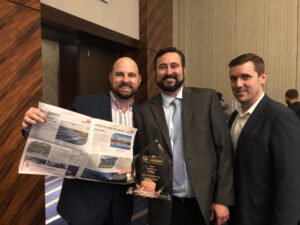 the top commercial real estate projects from 2018 as well as the Lifetime Achievement Award, an individual honor.
We are proud to announce that UPS Willowbrook Packaging Center won the Landmark Award for the Industrial category. The 68-acre development for UPS includes four tilt-wall buildings totaling 279,287 square-feet. These facilities include a package sorting facility, auto mechanic shop, wash tunnel and customer service center. This is the second Industrial Landmark award for the Alston Construction / Method Architecture project team.
Winners were selected from over 60 finalists across 19 categories. Projects are recognized for excellence in land planning, design, construction, economics, marketing and management. Entries were judged on impact to Houston, such as job creation, innovation, best use of land, site plan, development of surrounding neighborhoods, visual plan, amenities and being environmentally friendly.
The categories are:
Community Impact
Education
Headquarters Move
Hospitality
Industrial
Land Deal
Medical
Mixed-Use
Multi-Family
Office Building or Campus
Project Lease
Project Sale
Public Assembly
Rehabilitation / Renovation
Residential Development
Restaurant
Retail
Special Project
Workplace Interior
Method Architecture's project, GHX Industrial, was named a Finalist for the Headquarters Move category.
Landmark Awards History
2015 – Beltway Crossing Northwest – Industrial Winner
2016 – Karbach Brewing Company – Special Projects Finalist
2016 – Ellen Lighting – Industrial Winner
2017 – Mama Lycha Distribution Center – Industrial Finalist
2018 – Big Brothers Big Sisters Houston HQ – Community Impact Finalist
2019 – GHX Industrial – Headquarters Move Finalist
2019 – UPS Willowbrook Distribution Center – Industrial Winner