Tis the season for Holiday cheer and desserts full of beer from Method Architecture! The 1st recipe for the 12 Days of Beer Recipes is Beeramisu!
---
Beeramisu
Ingredients
1/4 cup mascarpone, softened
3 tablespoons sugar
3 tablespoons heavy whipping cream
1/2 cup Buffalo Bayou Gingerbread Stout (can substitute with your favorite stout)
9 ladyfingers
cocoa, to garnish
Instructions
Combine the mascarpone and sugar in a bowl and stir to dissolve. In a stand mixer, whip the whipping cream until stiff peaks form, 2-3 minutes. Fold the whipped cream in to the mascarpone.
Pour the beer into a shallow bowl. Dip the ladyfingers into the beer, flipping once. Don't soak them too long or they'll fall apart.
Place the ladyfingers in a tight single layer on the bottom of your cup, breaking into pieces if necessary. Spoon on a bit of the mascarpone and smooth out. Dust with dark cocoa powder. Repeat until you reach the top of your cup. Finish with a dusting of cocoa. Wrap up and refrigerate for at least 12 hours before serving.
This recipe is for a single serving! Multiply the recipe as needed. Find the original recipe here!
---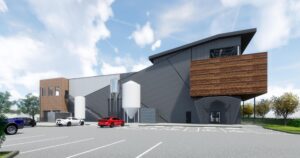 Buffalo Bayou Brewing Co.
Method Architecture has been a part of Buffalo Bayou Brewing Company's journey to be Houston's most creative brewery since the beginning. Method's team helped Buff Brew's Rassul Zarinfar to make phase 1 of his vision come to life in 2011 when they designed the original brewhouse on Nolda Street in Houston. Seven years later, Method is helping to bring the next phase of Buff Brew's vision to life with their new 3-story brewery and restaurant in Houston's Sawyer Yards Arts District. This project is currently under construction slated to open Summer 2019.
More about Buffalo Bayou!