Tis the season for Holiday cheer and desserts full of beer from Method Architecture! The 2nd recipe for the 12 Days of Beer Recipes is a Coffee Stout Brownie!
---
Coffee Stout Brownie
Ingredients
1 cup all purpose flour
1/4 cup unsweetened cocoa powder
1/2 teaspoon kosher salt
3 1/2 ounces semi sweet chocolate
8 tablespoons of butter, browned
1/2 cup Eureka Heights' Truckers Choice Coffee Stout (or any coffee stout or dark beer)
4 eggs, at room temp
1 cup white sugar
1 cup brown sugar, packed
2 teaspoons vanilla extract
1 cup semi-sweet chocolate chips
Instructions
Preheat oven to 350F.
Sift together the flour and cocoa powder. Meanwhile, melt the chocolate in a bowl over boiling water. In a small pan over medium heat, melt the butter until it just turns golden brown. Pour the brown butter into the bowl of chocolate, scraping the pan to get the brown bits (this prevents it from overcooking), then add the beer. Beat together the eggs and sugar until thick and shiny (2 minutes). Continue beating on low while adding flour mixture and wet ingredients alternatively. Finish with the vanilla. Do not over mix. Fold in the chips. Pour into a buttered and floured 9 x 13 pan. Bake for 40-45 minutes.
Find the original recipe here!
---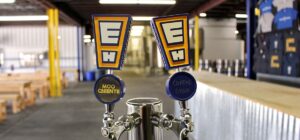 Eureka Heights Brewing Company
Adding to Houston's booming craft brewing scene, Eureka Heights features a commercial production brewery, event space, and barrel aging room. Method Architecture worked with Eureka Heights Brewing Co. to retrofit a food service facility into a brewery. The project consisted of modifying the existing structure to support the brewing systems and creating an open-concept design where patrons can enjoy a drink in the tap room with direct views into the brewery's production area.
Check out our work with Eureka Heights!
Want more recipes?  Day 1 Recipe: Beeramisu