CRE Chats: Dana Compton
Welcome to CRE Chats! Here we sit down with leaders in the commercial real estate industry to discuss industry trends, technologies, and how we continue to move our cities forward. Recently, we talked with Dana Compton, Director of Business Development at Ridgemont Construction, a commercial construction company in North Texas.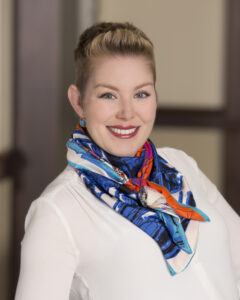 How much harder has it become to find opportunities in this climate?  Has your approach changed and/or tactics changed?
It has been immensely harder to find opportunities. Investors have been backing off of previously approved projects, understandably in this uncertain climate. Also, North Texas is known for being an incredibly competitive market even without a global pandemic, and I've seen this competition increase even more since March.
For the first few months, it was easy to talk to people because everyone was craving connection. We were also all on an even playing field (working from home, trying to figure out how to make it all work), so I found that more people were willing to take my calls than before. This has changed, however, with phone and virtual meeting fatigue.
My new approach is to meet people at the golf course. It's the perfect social distancing meeting! I've played more golf in the last few months than I have in the last year probably, because everybody wants to get out and do something fun, since everyone's typical activities are curbed for the time being.
We've found now more than ever our real estate clients are leaning on us for expertise.  Since you're in the relationship business, my guess is you're seeing the same?
I have always taken the approach of creating the deal and bringing it to the client, and I find that this approach has been even more well-received over the past six months. With deals a bit more scarce than usual, clients have responded well to me doing most of the legwork for them. I am also an accomplished grant writer, and am currently helping a client get a senior living deal solidified by writing some federal grants for him. I believe that any expertise we can throw at them, let's do it. Chances are, some general contractors in our marketplace might not have the same stack of expertise, so if it can set us apart in some way, I'm going for it.
From your perspective, which industry sectors have been hit the hardest vs were well poised to capitalize on the current environment?
We have specialized in retail construction for well over 25 years, and that sector has been hit very hard. We are building a few retail projects, and have several exciting projects in the works, but it isn't at the level that we typically see. On the other hand, Industrial is another specialization of ours, and it seems that we can't build these facilities fast enough. Spec industrial is through the roof, and isn't slowing down anytime soon. Another market segment that is keeping us very busy is Senior Living. The need for these facilities is growing by the day, and we have several under construction at a time, with many in the hopper. Office has been surprisingly active. When COVID first hit, the big idea was that office was going away, but we are building many spec office buildings currently. It's my opinion that office is not going away. It may look a bit different, but it will always been needed in some form. Finally, we are well-known for our specialization in Automotive Dealerships. What I've noticed during COVID is that high-end dealerships, such as Lamborghini/Bugatti and Porsche are moving forward, which is an interesting conversation topic on the concentrated wealth in Texas. We are building these dealerships right now in Dallas and Austin, with more high-end dealerships on the horizon
Have there been any bright spots personally or professionally for you that came out of the COVID pandemic?
Professionally, I have been extremely impressed with my company's leadership. COVID brought much uncertainty, especially for immune-compromised people like myself. Our leaders have taken extra care to be sure that I'm doing what's best for my health, and I can't be more appreciative. Ridgemont's leadership put the staff's needs ahead of everything else and made sure we were all safe before moving forward with any other initiatives. Situations like this are where the rubber meets the road, and our leadership showed our staff that we are truly a family, and I have never felt more professionally cared for in my career – it's so refreshing! Ridgemont's COVID procedures have been strictly followed and our jobsites have stayed safe, throughout the entire pandemic. It's been nothing short of amazing, and it's because of the leadership and our folks in the field, making sure that everything is followed exactly. It feels good to be part of this team.
Personally, I have absolutely loved being at home, working alongside my husband, Jason, and our two shih tzus, Bama and Beau. I know that this is a rare opportunity, to spend so much time with my family, and one that I don't take for granted. On the days that I'm working from home, we usually don't break for lunch, but we have tea time at 2pm every day and that has been such a calming, centering moment for us. We use our nice tea set, pour a cup of tea, and just visit or read the paper. I have found that I have a ton of energy to finish out my afternoon. It's been wonderful!
How are you and your company uniquely positioning yourself to help clients through this?
General contractors are not known for being technologically advanced, but Ridgemont takes technology very seriously. We have a dedicated Technology Committee that keeps us at the forefront of technology, which is a huge benefit to our clients. Since clients and/or architects may not be as comfortable coming to the jobsite for Owner/Architect/Contractor (OAC) meetings, we have 360 degree cameras that are utilized in our weekly reports. Our clients have loved being able to check on progress remotely. We've been extremely blessed to have been deemed essential throughout the pandemic and our ability to work remotely and conduct virtual meetings has been paramount to our success over the past six months. Because of all of the technological tools at our fingertips, we have not seen any downturn in our productivity. It's been business as usual, as far as our clients are concerned!
What advice would you offer to your colleagues in the CRE and AEC industry?
This is a tough time for everyone – professionally and personally. What a year 2020 has been, and we haven't even gotten to the election yet! Just stay at it. Everyone is in the same boat as you and we are all doing our best. We can't afford to take our foot off the gas. We are in a competitive market that requires our best at all times, even during a global pandemic. I'll leave you with a saying that I love: "This too shall pass."
More About Dana Compton
Dana is responsible for overseeing client relationships, business development and strategic initiatives for Ridgemont. She is focused on planning and coordinating the implementation of business plans and the penetration of new markets.  Dana thrives on formulating and executing project pursuit strategies, coordinating strong project team members and identifying new business opportunities for Ridgemont.
Dana joined Ridgemont in 2018, and has been instrumental in bringing a wide variety of industry knowledge to the company. Before working at Ridgemont Dana did Business Development and Marketing for other companies in the A/E/C industry.